Crazy But True Facts you probably didn't know about Mike Tyson
Mike Tyson is one of the greatest boxers who ever lived? Debatable. Will he go down in history as a saint sent from the heavens? Doubtful. But is Mike Tyson one of the most entertaining boxers/human beings to grace this big blue rock we call earth? Undisputed.
Mike Tyson since the day he landed on all of our radars has been the most spectacular fighters to ever step foot in a boxing ring. He was scary, down right frightening, and we would be lying to say we didn't watch a Tyson fight to see someone's head get punched into the 3rd row. But there are so many things we never knew about the unique creature we called "Kid Dynamite".
Let's go down the list of things you most likely didn't know about the former youngest Undisputed Champion of the World.
Tyson was defeated twice before making it to the Pro's
Mike Tyson was always a top boxing prospect since he entered the sport as an amateur, and almost made it to the 1984 Olympics until being defeated twice by points to Henry Tillman. Michael got his revenge in the pro's however, and knocked Tillman's head clean off.
He almost beat the shit out of our current President Donald Trump
Donald Trump promoted and hosted a variety of Mike's fights at the Trump Plaza in Atlantic City, but our current orange president got super chummy with Tyson's then wife Miss Robin Givens. Tyson cornered Donald Trump and flat out asked him "Hey Donald, are you fucking my wife?". Trump denied it, Tyson spared his life, and lived long enough to win this years election.
Mike Tyson has a brother
It's true, and his half brother Jimmie Lee Kirkpatrick is a physician's assistant in Los Angeles. Tyson's biologically father had at least 7 kids.
His WWE Wrestlemania Appearance saved his ass financially
When Mike Tyson got out of jail, he was quickly back in the hot light and banned from boxing for taking a bite out of Evander Holyfields ear. Enter Vince Mcmahon, who was facing the stiffest competition in his company history against Ted Turner's WCW. Vince knew Tyson was still a huge PPV attraction, and signed Tyson to appear at Wrestlemania. Tyson later admitted during his WWE Hall of Fame speech that it saved him from financial strain, and the two brands who helped each other when they needed it have been friends ever since.
Once he was in a Best Selling Video Game, then replaced by a bland white guy
Mike Tyson's Punch Out was one of the best selling, most beloved games on the NES. When his rape charges landed him in prison however, Nintendo resold Punch Out replacing Tyson with some white dude named Dr.Dream. No Kidding.
He didn't have sex for 5 years straight. For Real....
For the record, Iron Mike isn't the first boxer to subscribe to the "no sex before a big fight" theory. Everyone from Manny Pacquiao to Amir Khan has also admitted to toning things down in the bedroom in the months leading up to a fight. But most boxers don't take it to the level that Tyson did at the start of his career. Don't worry, though. According to him, he's more than made up for missing out on those five years since then.
....But then he caught the clap, and beat Trevor Berbick for the title with gonorrhea
By winning the fight, Tyson became the youngest heavyweight titleholder ever. But years later, he admitted that, during the match against Berbick, he was "burning like a Good Humor in July."
The Mike Tyson/Buster Douglas Rematch was going to happen, but...
Holyfield had been the mandatory challenger for about a year before Tyson lost to Douglas and accepted step-aside money from King while Tyson defended against other opposition. He was willing to do the same to allow an immediate rematch between Douglas and Tyson before Douglas announced he wouldn't be fighting until September, which would have most likely resulted in Holyfield having to wait at least another year before he got his title shot. Douglas took the $25 Million dollar offer to fight Holyfield instead, Holyfield beat Douglas, and the rest you can say, is history.
He didn't graduate High School, but somehow has a Doctorate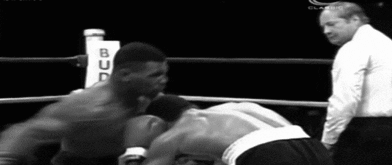 Ironically, Tyson dropped out of high school when he was just a junior and never graduated. But Central State gave both him and Don King honorary Doctorate in Humane Letters degrees. "Mike demonstrates that hard work, determination, and perseverance can enable one to overcome any obstacles," Central State president Arthur Thomas said at the time. Hmmm...No high school degree required?
He got super high, and beat up a bunch of hookers
The assault, which took place in a hotel room in 2009, occurred after Tyson used morphine, cocaine, and alcohol. He credits the incident with helping him get sober. "It was the lowest point of a very low life," he told Robin Leach in an interview in April 2012, "but it was my own knockout punch to clean up life, get whole, get well-and I haven't done anything in three years now. I'm clean. I'm sober."
Tupac was murdered leaving his fight
The champ and Tupac became friends after the rapper paid Tyson a visit while he was incarcerated for rape. Tupac and his entourage got into a confrontation with Orlando "Baby Lane" Anderson, a Crip member from Compton in the lobby of the MGM Grand following the Tyson-Seldon fight on Sept. 7, 1996. Anderson was allegedly a part of a group that had robbed a Death Row member earlier that year. Shortly afterward Tupac was shot multiple times in a drive-by shooting near the Vegas strip and died six days later at the University Medical Center.
In 2010, Tyson said the biggest regret he has about his relationship with the slain rapper was not smoking weed with him. "He always wanted me to smoke weed with him, and I never did it, and I wish I did," said Tyson.
Teddy Atlas once put a gun to Tyson's head
During a July 2012 interview on ESPN's Dan LeBatard is Highly Questionable, Atlas confirmed that he had, in fact, put a .38 caliber gun to Tyson's head back in 1983 when the young boxer was just 16. He claims he did it because Tyson touched Atlas's 11-year-old female family member inappropriately on the buttocks. But the incident actually led to Atlas getting thrown out of the storied Catskill Boxing Club by Hall of Fame trainer Cus D'Amato, who had adopted Tyson a short time earlier.
Mike Tyson and Evander Holyfield are now friends, and were rumored to be fighting each other for the 3rd Time in 2011
Rumors circled around the water cooler that Tyson signed to fight Holyfield for the 3rd time at the far end of their careers. Those turned out to be false, and despite the ear biting incident, they have done a few interviews, commercials together and are now good friends.
Mike Tyson is a Huge MMA Fan
You could see Mike Tyson backstage at a variety of different UFC shows, entering the ring for his last few fights wearing Tito Ortiz's Team Punishment Beanies, promoting PRIDE FC and rumored to be fighting Fedor Emileneko, also signed on to fight Bob Sapp in K-1 which never happened. He is a huge fan of the sport, and supported MMA since the get go. You can play as Mike Tyson in the New EA Sports UFC 2 game.
He was asked who was his toughest opponent, and he said....
The Baddest Man on the Planet ladies and gentleman.
Shit. That was alot. Any facts we left out? Comment Below!