All-Time Greatest Knockouts in MMA History
These are the moments of a exciting, yet still very young sport that will echo through history and researched by many as the sport grows through out the years. As we will always remember the heroic catches of the big NFL game, or the game winning shot in closely contested NBA match-up - For all fight fans, these are the moments that made us the MMA fans we are today; but for all fighters, it is our worst fucking nightmares and a grim reminder how the slightest miscalculation could lead to terrible misfortunes and your family members watching you get knocked on your ass.
We have gathered the most historic, most vicious and ruthless MMA Knockouts in history
Henderson vs. Bisping (UFC 100, July 2009)
This will always have a special place in our heart, not because we love Dan Henderson, but it's so easy to dislike Michael Bisping - and for all the smack he talked before the fight, the best brit to ever step foot in the octagon had it coming.
Silva vs. Belfort (UFC 126, February 2011)
Right when we thought we saw all of Anderson Silva's tricks, one of the greatest middleweights to ever strap on the 8 oz. gloves showed us another in the form of a straight high kick that rattled the brains of a unassuming Vitor Belfort.
Barboza vs. Etim (UFC 142, January 2012)
This was a knockout we thought was only achievable in a video game or a movie, at UFC 142 that proved to be inaccurate as the spinning kick from hell shocked the world and MMA fans alike.
Jackson vs. Arona (PRIDE Critical Countdown 2004, June 2004)
These guys were originally suppose to fight at PRIDE Total Elimination 2003, until Ricardo Arona got injured and Murilo Bustamante stepped in on short term notice. One year later, Quinton Jackson got his fight with the Brazilian Tiger and delivered the mightiest powerbomb (cough...and headbutt) that will be played on highlight reels for generations to come.
Gonzaga vs. Cro Cop (UFC 70, April 2007)
There was always this crazy amount of hype when it came to PRIDE guys stepping over company lines to fight in the UFC, needless to say when Cro Cop came to the octagon, it sounded like the death touch to the UFC's top talent in the Heavyweight Division. Enter Gonzaga. Enter his big fucking leg. Enter Gonzaga knocking out the popular K-1 and PRIDE star with his big fucking leg in one of the most vicious knockouts i ever seen in my life.
Couture vs. Machida (UFC 129, April 2011)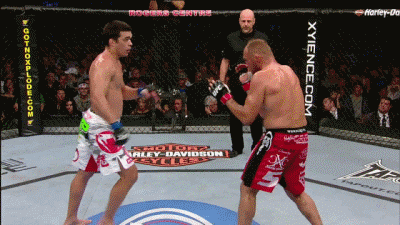 At this stage of the game, Lyoto Machida was known as a karate point fighter who got his era ended prematurely at the hands of Shogun Rua. Couture at this stage of the game was ending a historic career and planned to go out on a high note. Until the Karate Kid rebooted the ending of the popular 1980's movie and crane kicked the fuck out of "The Natural". Wowza.
Silva vs. Weidman (UFC 162, July 2013)
Nothing shocked the world more than Anderson Silva losing his UFC Middleweight Title for the first time. But after a first round full of dancing, strutting and taunting, Chris Weidman sent shockwaves throughout the MMA community and sent a message to Silva that he was not the new yorker to fuck with.
Oh yeah, and don't forget about the rematch...
Holly vs. Rousey (UFC 193, November 2015)
It was the moment when fanboys all cried out at once, the fall of the mother of the UFC Women's Division. Ronda Rousey fought a dangerous striker, picked her poison, and Holly Holm showed how flawed the former champ's striking really was. A Devastating knockout that changed the course of history.
Mcgregor vs. Aldo (UFC 194, December 2015)
One punch, One Punch and that's all it took for Jose Aldo to fall at the hands of the Notorious Conor Mcgregor. It was a fight built up for 2 years, and in the matter of 1 Round, Mcgregor proved to the world that it was his time.
Fedor vs. Rogers
The first fatality in the history of MMA....Just kidding. We just really love this gif.
And the bonus knockout!
We have no idea when this happened, or who was fighting, but god damnit if this isn't the coolest knockout we ever seen in our lives, i don't know what is.
Any other knockouts you think should have made our worst nightmares? Comment below!